¥92,000 JPY
Regular price
Sale price
Unit price
per
920Point
Sale
Sold out
SKU: AT-38SVJRBK-R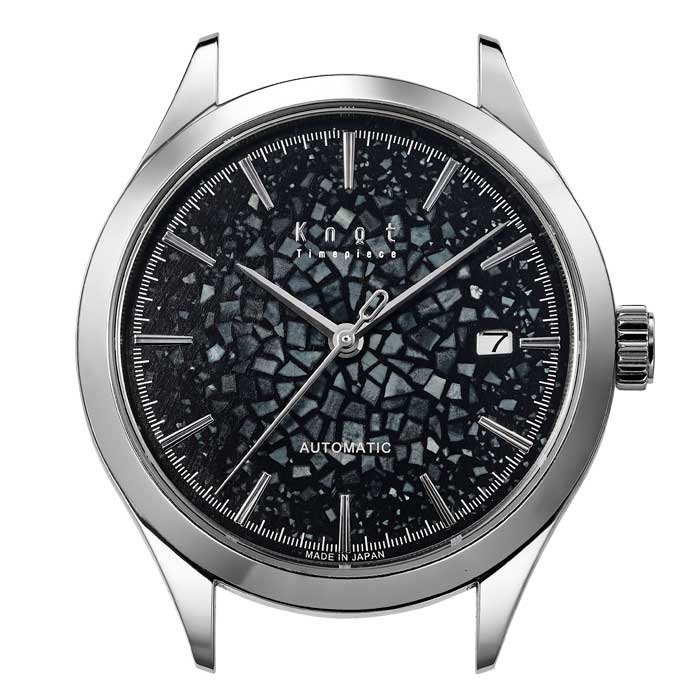 AT-38SVJRBK-R
¥92,000 JPY
Regular price
Sale price
Unit price
per
920Point
Sale
Sold out
Urushi Lacquer – handcrafted by Nobuichi Otake, Traditional Artisan

Urushi is a paint created from the sap of the lacquer tree, famed for its extraordinary durability and deep color and texture. Its history is ancient, with the world's oldest lacquerware believed to be a 9,000-year-old burial ornament discovered in Japan. Lacquer crafts are used in many parts of Asia, and it is a technique that has become synonymous with Japan – so much so, that in other countries the word "Urushi" (lacquer) is sometimes translated simply as "Japan" alone.

SPEC
Case

SUS316L / Silver Polish

Glass

Sapphire glass (Non-reflective coating)

Dial

Raden Sumi Monochrome

Hands

Silver

Diameter

38mm

Thickness

10mm

Weight

50.0g

Movement

cal.9015 / MIYOTA

Water resistance

 5ATM

Precious Stone

 24 Stones

Time Precision

 Average day difference : -10 seconds to +30 seconds

Frequency

28800 vibrations / hour

Duration

45hour

Warranty Period

 3 years for movement
※Please note that straps are sold separately. You can choose freely according to your own preference.
※This product can not perform "Engraving Services" because the back cover is glass specification.
View full details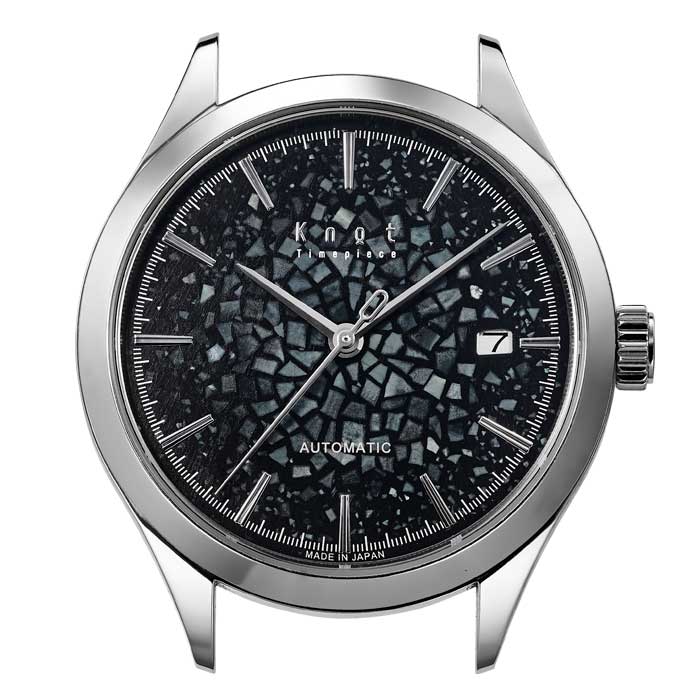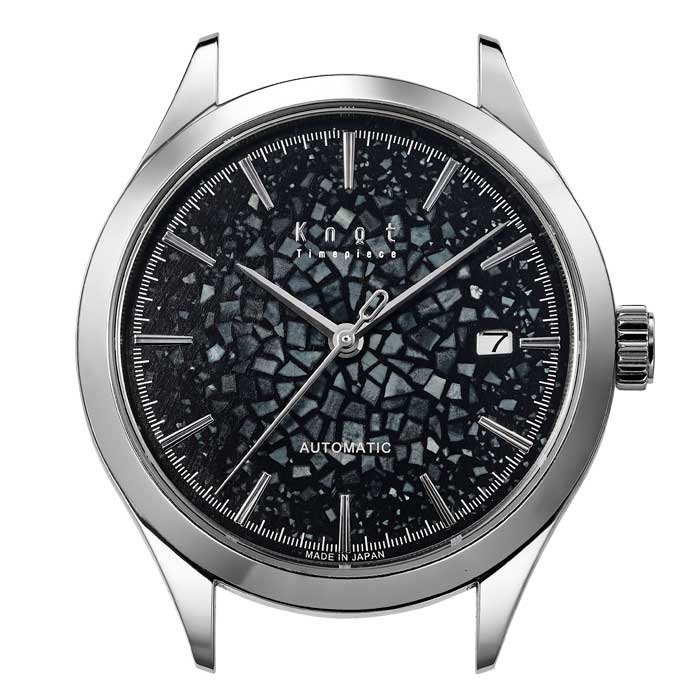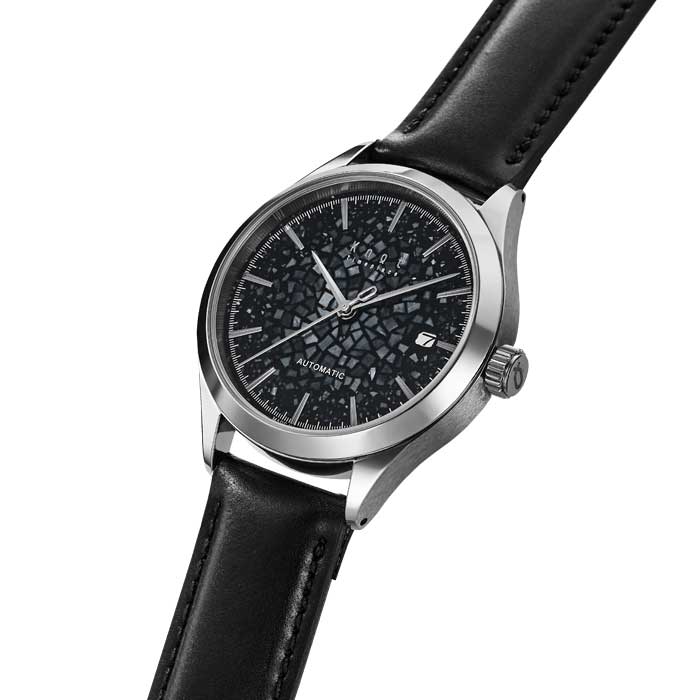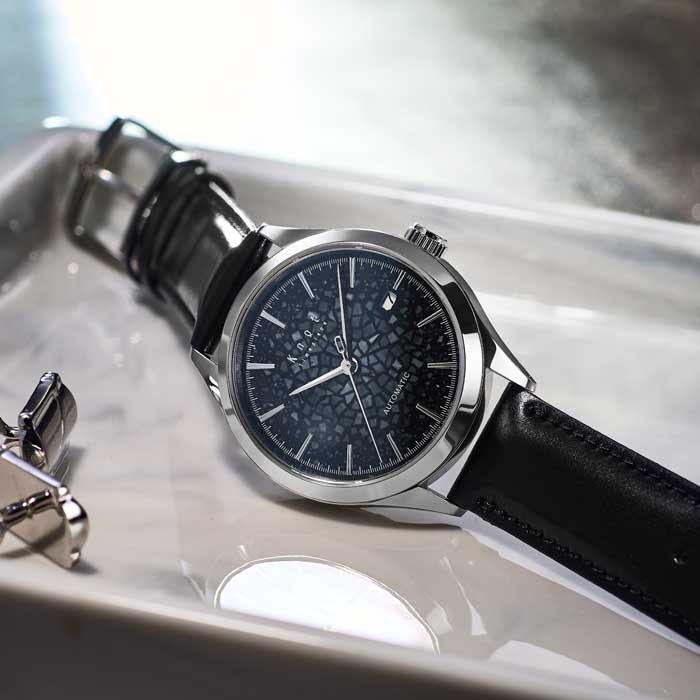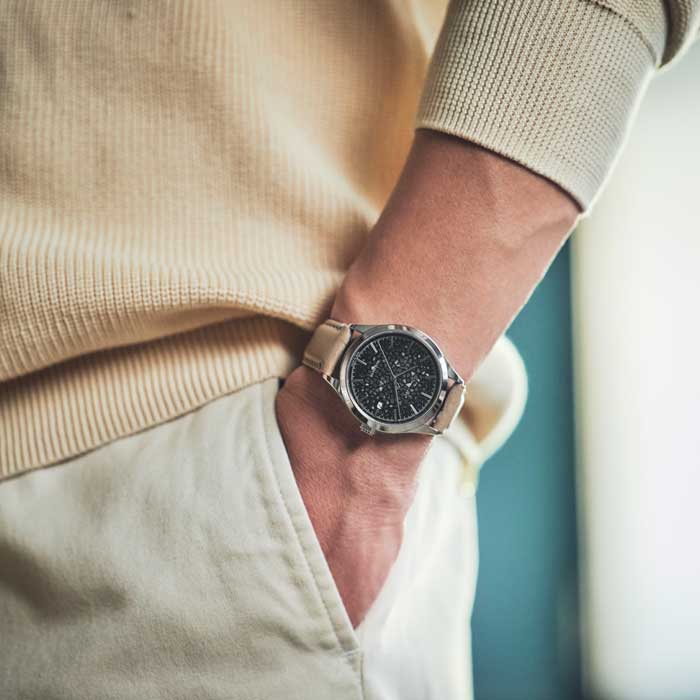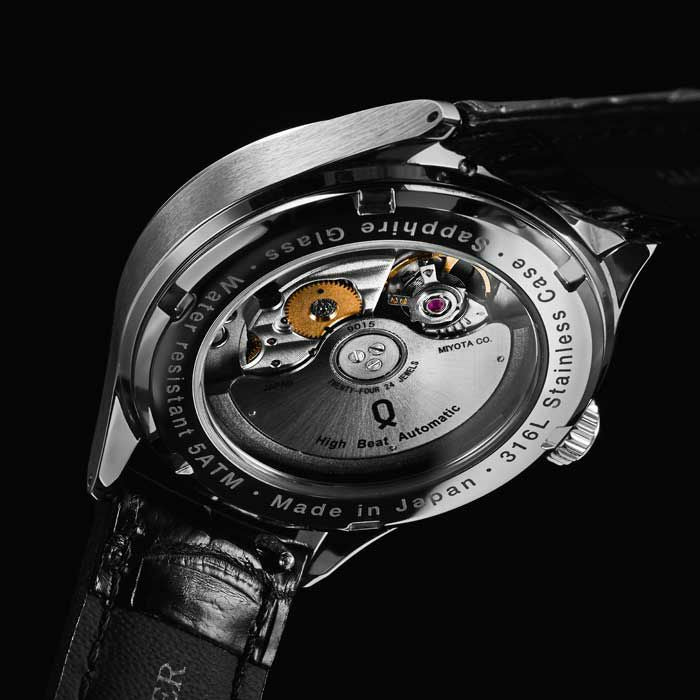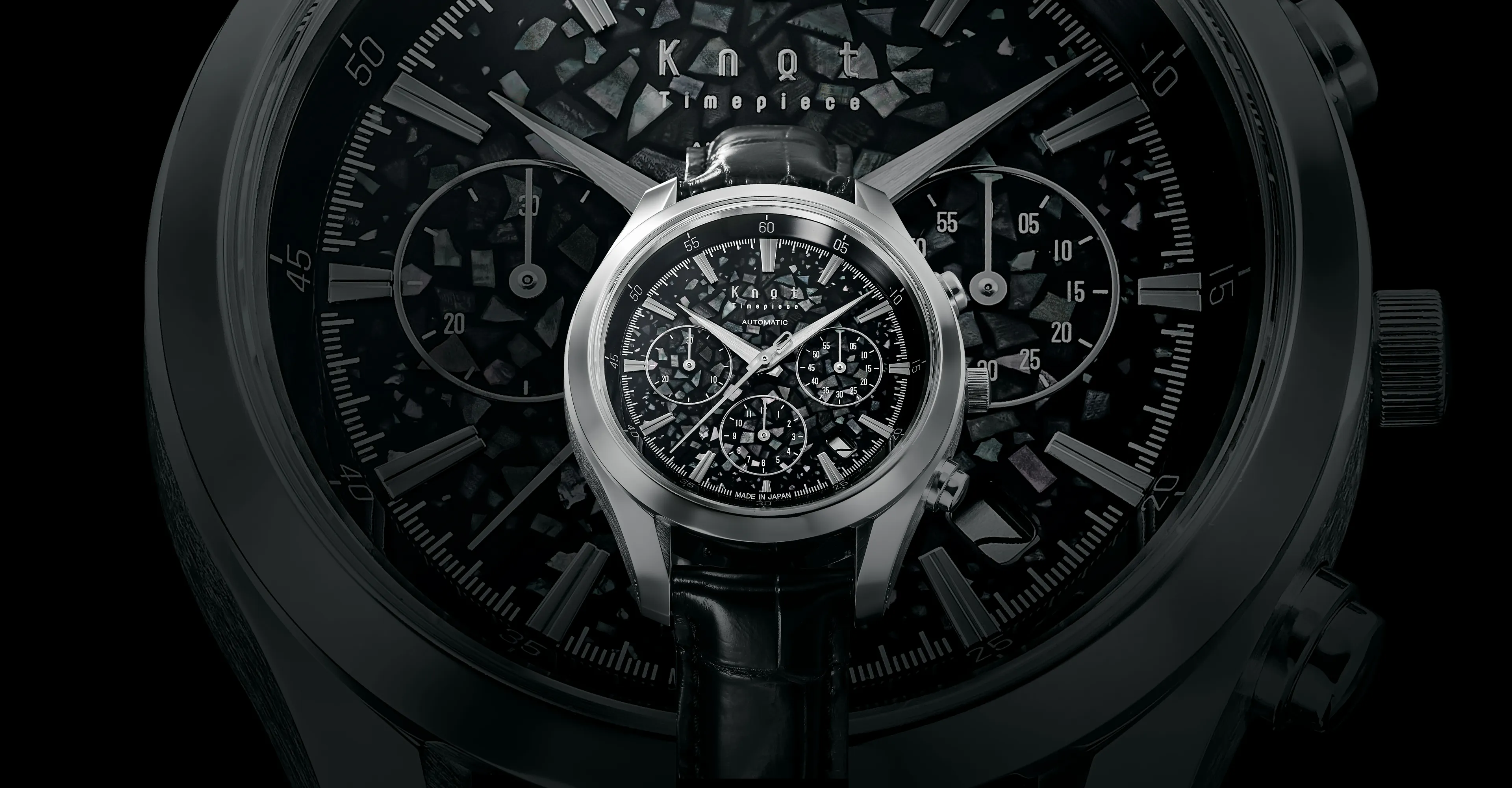 Premium Automatic
2023 New Models
螺鈿
Raden
What is RADEN
The "ra" (螺) in Raden means "shell", while "den" (鈿) signifies "inlay". Raden is a beautiful decorative technique where the shiny inner layer of mother-of-pearl is finely processed and scattered over the surface of an "URUSHI" lacquer.
This Japanese traditional craft was brought over from China in the Nara period (710-794), refined during the Heian period (794-1185), and handed down the generations to the present day.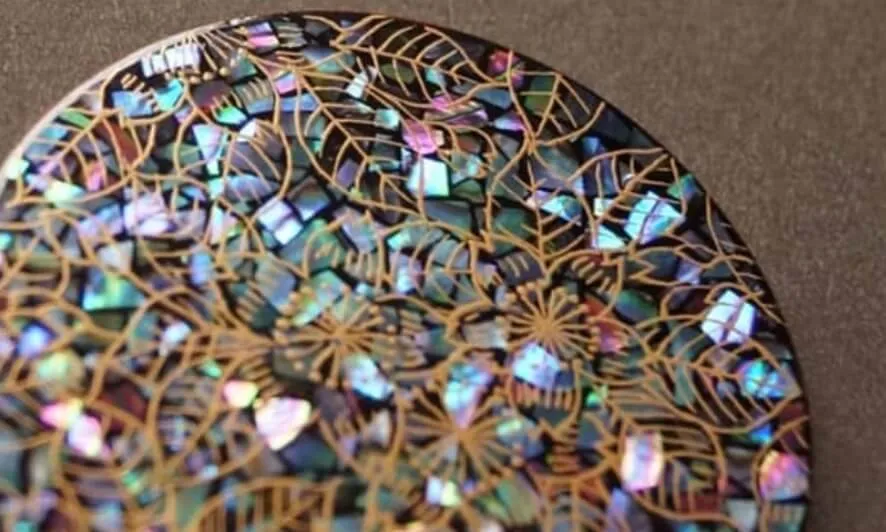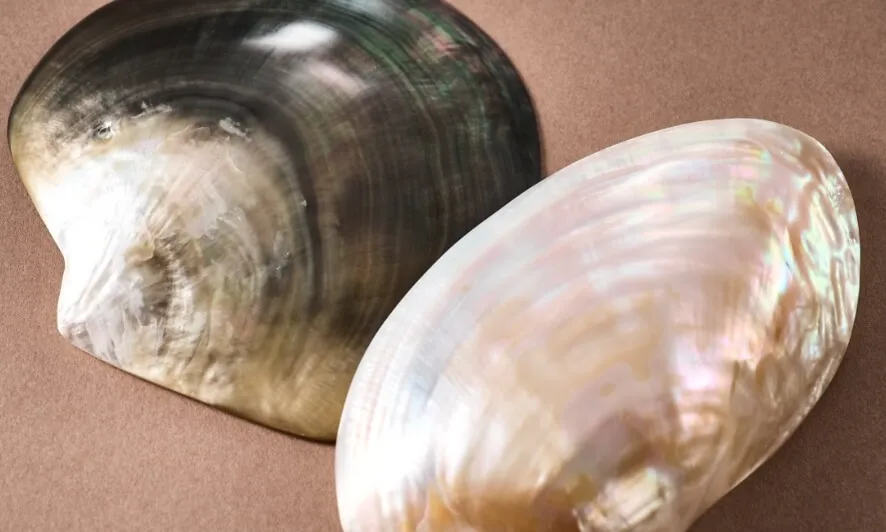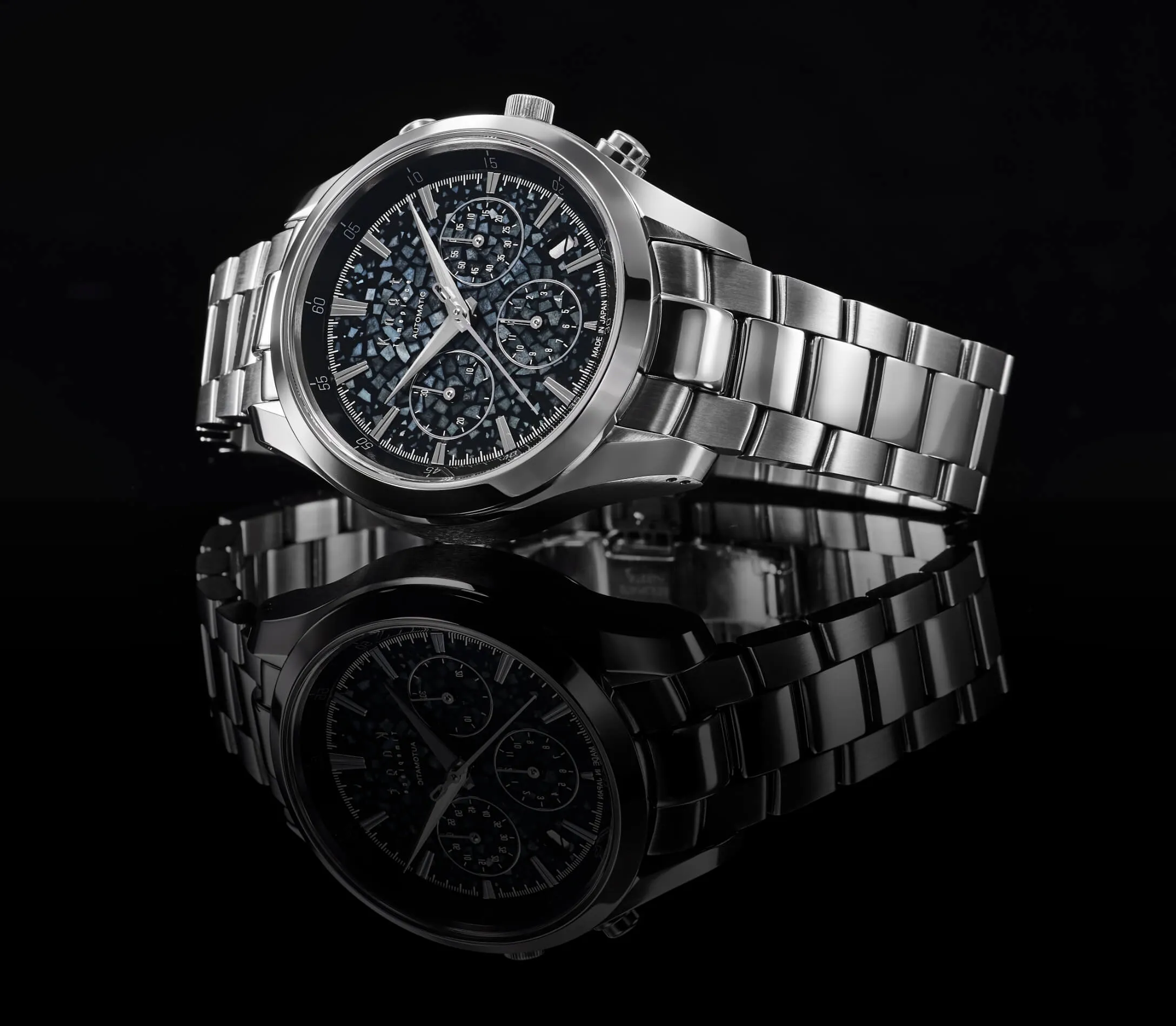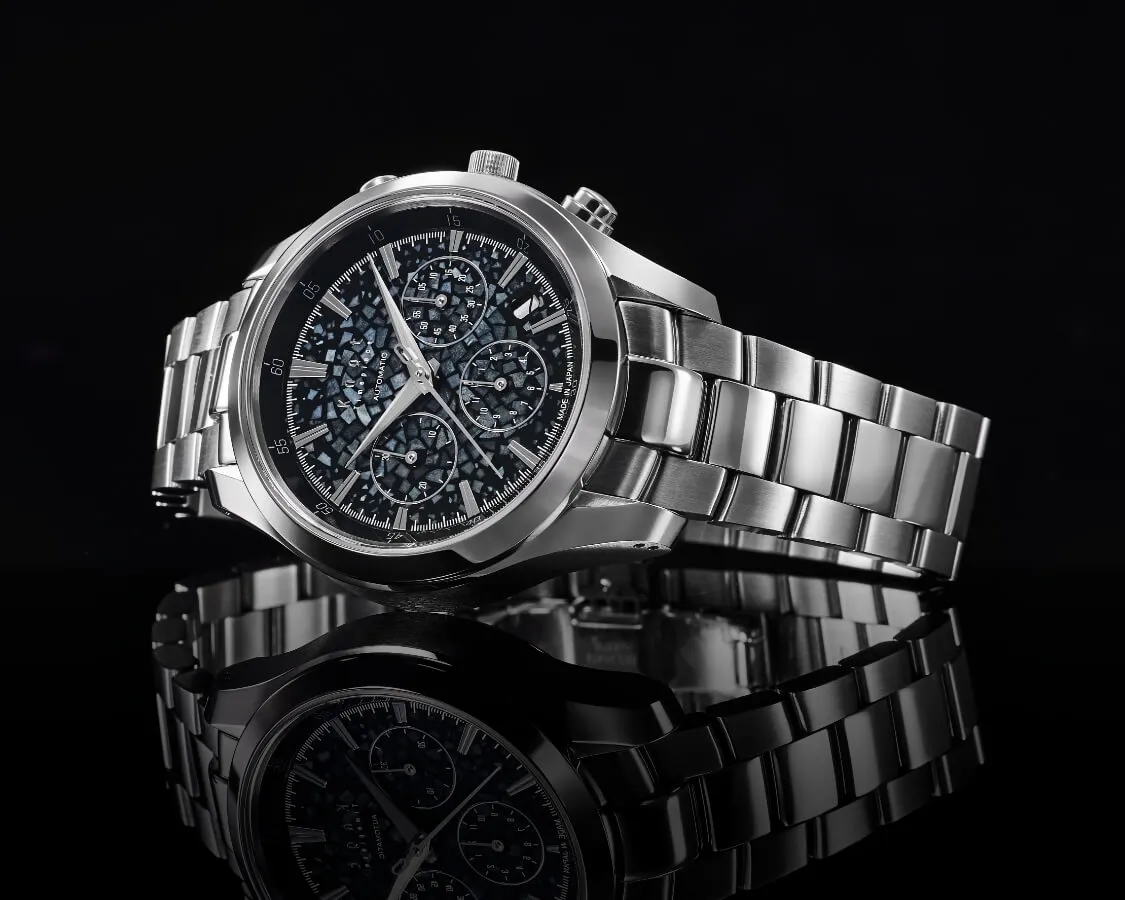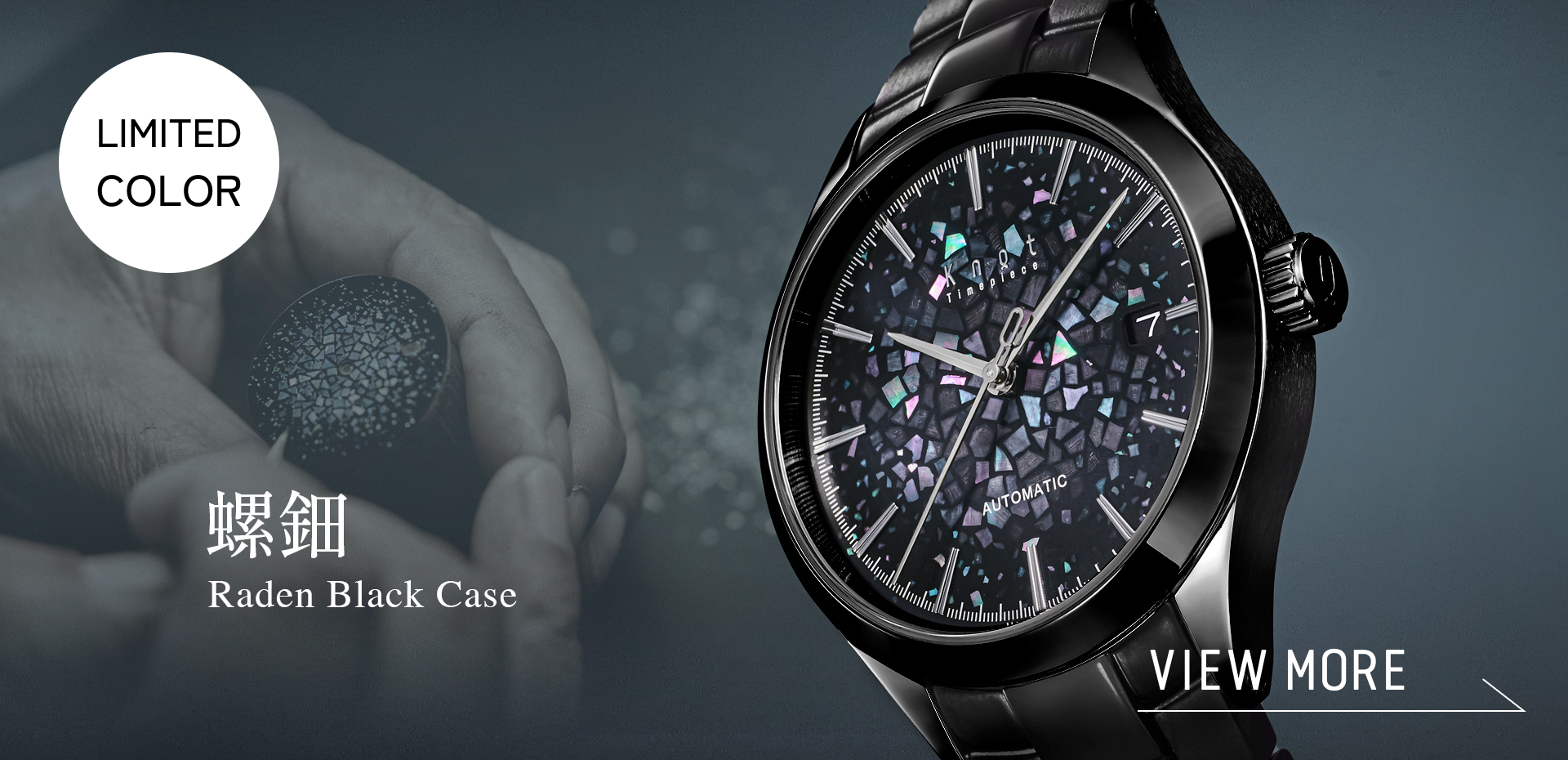 Two expressions of Raden:
traditional Seven Colors and contemporary Sumi Monochrome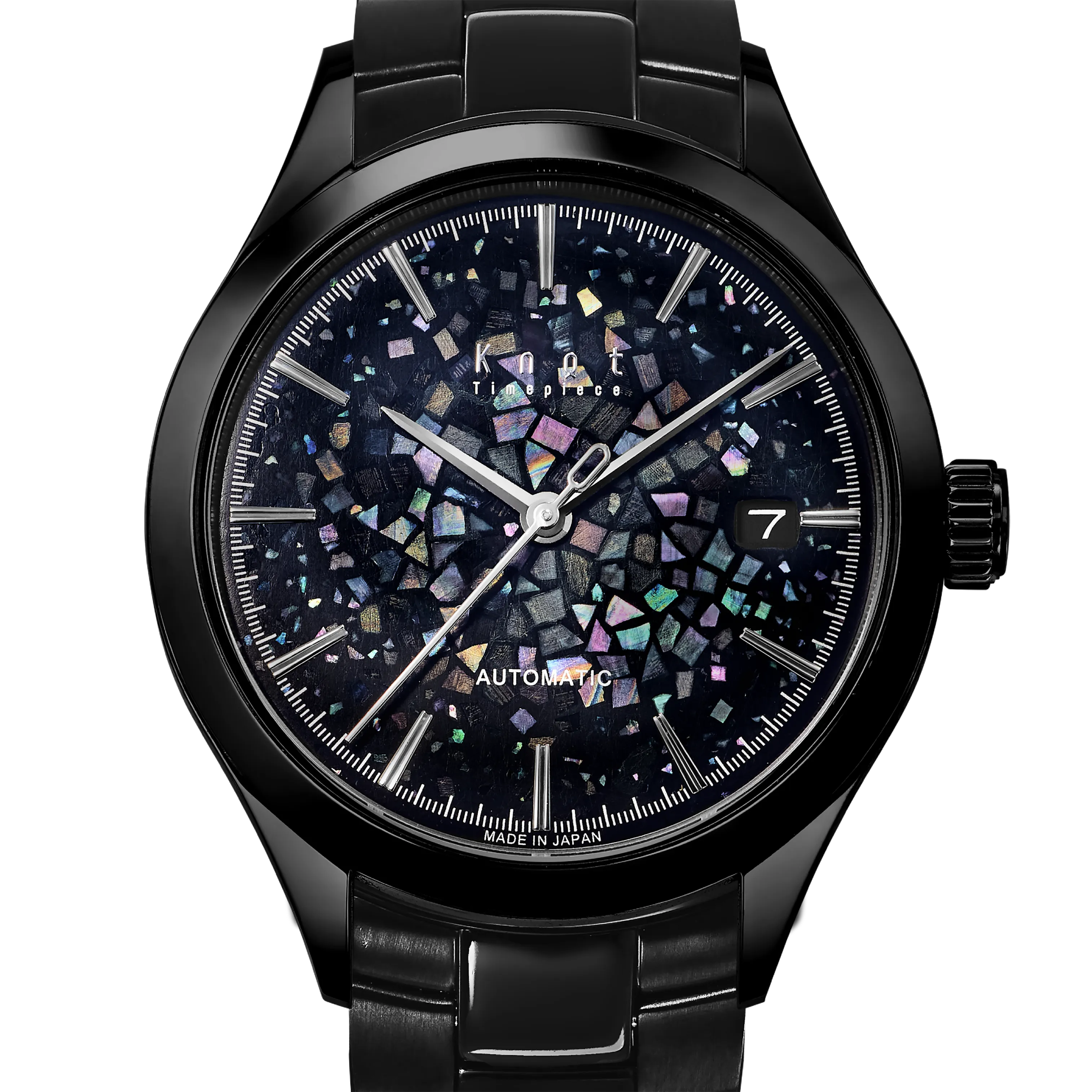 2023 LIMITED MODEL
Seven Colors with Black Case
Limited edition model with classic brilliance
The Seven Colors model lets you enjoy the colors and splendor of traditional Raden inlay. The Raden decoration is crafted from seawater shells lined with black mother-of-pearl. This inlay contains seven shades of pink, green, white and more, creating a luxurious, distinctive look on the wrist. This model is only available in limited quantities during the year 2023.
SHOP HERE
REGULAR MODEL
Sumi Monochrome
Regular model with a modern twist on tradition
The Sumi Monochrome model features an arrangement of traditional Raden which is more subtle, and ideal for wearing in everyday life. The simple color of the freshwater shell is refined to a sophisticated shade using an original technique that tones down its saturation by applying a very thin coat of lacquer. This innovative variation on the Raden technique lends it a contemporary feel.
SHOP HERE
Seven Colors limited edition and Sumi Monochrome regular edition
Two models, two expressions of Raden
Gradient finish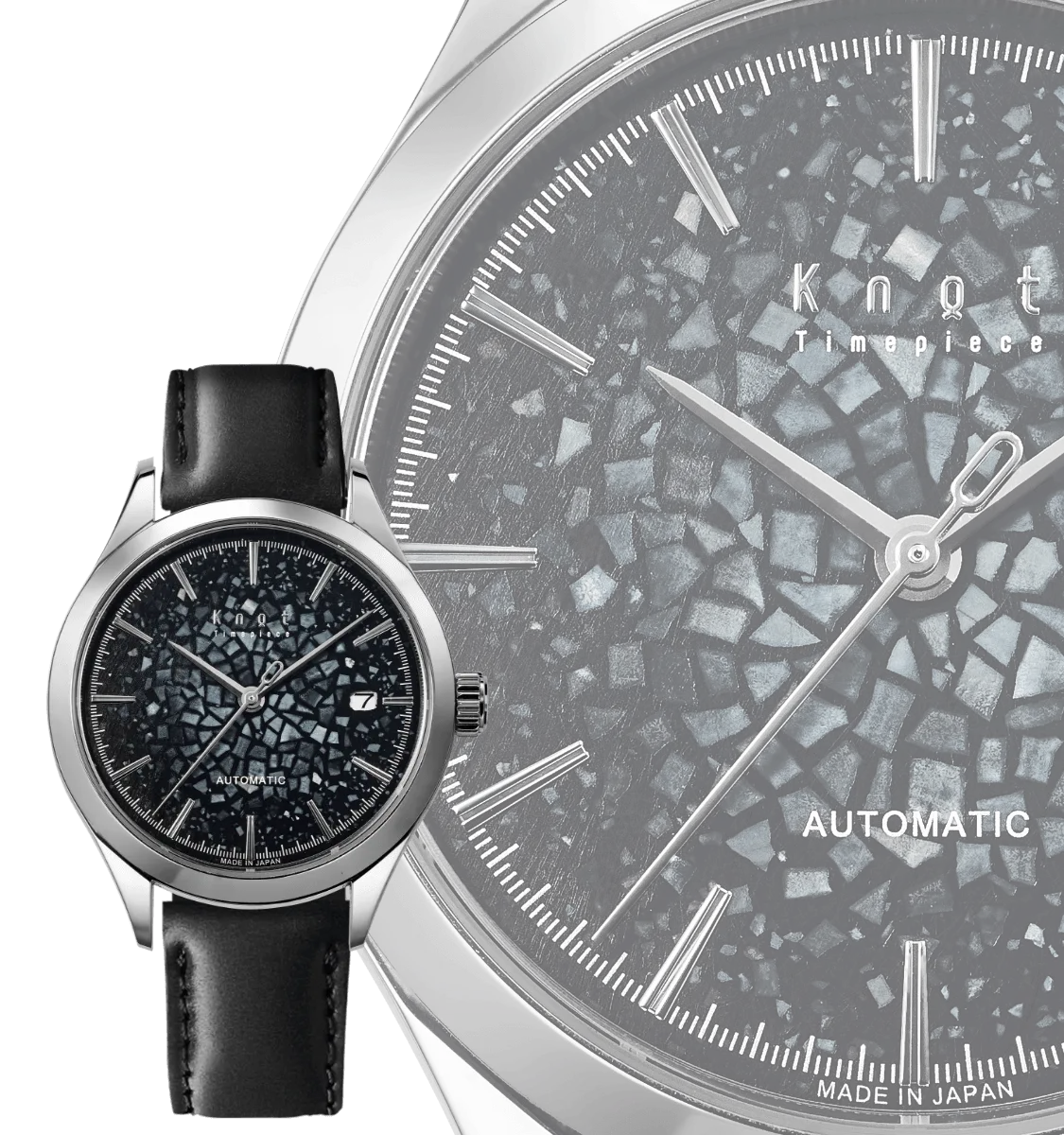 The Raden decoration is arranged in an attractive gradient which transitions from the center to the outer edge. This gradation has been refined by Knot's product designers for optimum readability of the hour markers, and hand crafted by traditional artisans.
The colors and shapes are arranged evenly, adjusting the color and size as the gradient transitions towards the edge. This intricate effect is a result which can only be achieved by the skilled hand and intuition of a master craftsman.
Outstanding skills of traditional Aizu artisans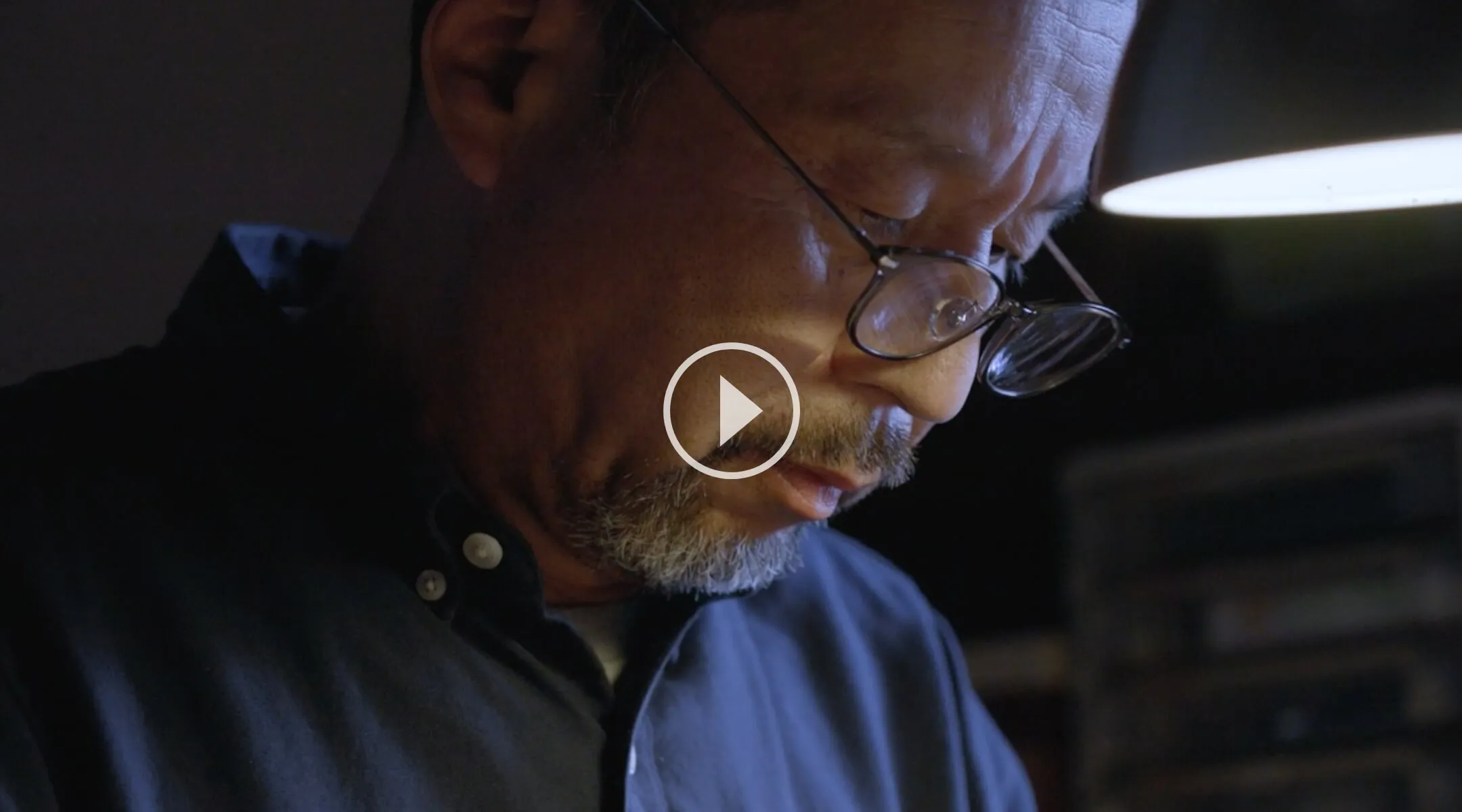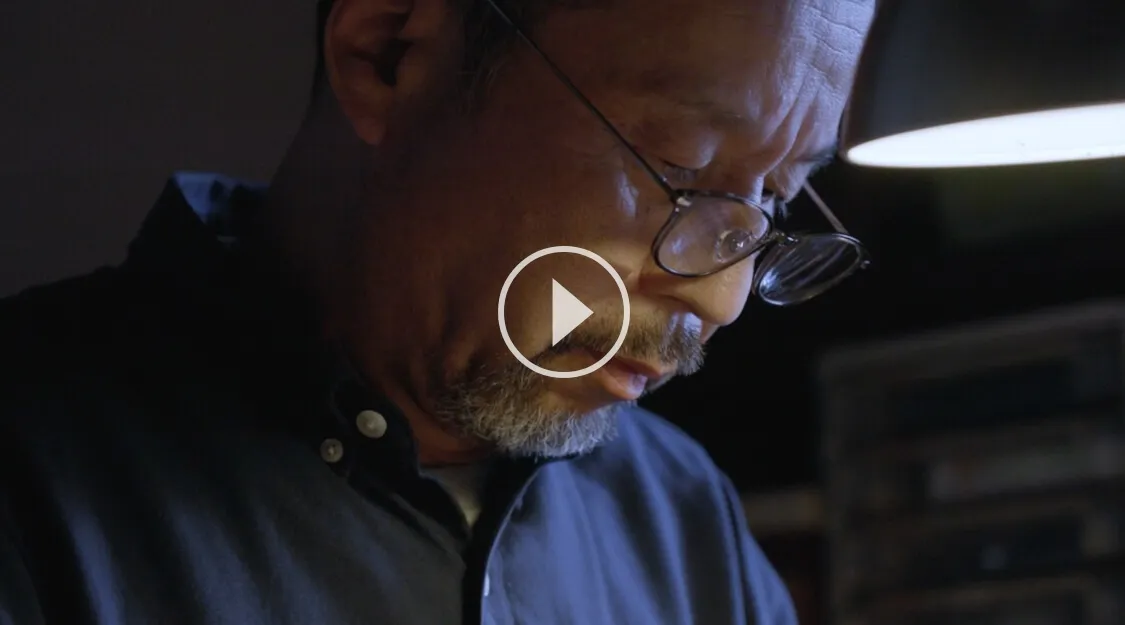 The "traditional artisan" title is only awarded to technicians working in the manufacture of traditional crafts who possess advanced artisanal skills and techniques. The dial has been realized in collaboration with Nobuichi Otake, a traditional artisan whose style employs sophisticated technical skills and an original sense of style.
Nobuichi Otake, Traditional Artisan
Born in 1959 in Fukushima (the area formerly known as Aizu)
Upon completing high school, Nobuichi Otake initially worked at a hydroelectric power station. However, he had wanted to work as a painter ever since he was a child. He happened to learn about the Maki-e lacquer art profession while watching TV, and became an apprentice to Sone Takuo, a contemporary master artisan of Aizu lacquerware.
After five years and five months as an apprentice, he became an independent Aizu lacquerware Maki-e craftsman.
Learn more about Nobuichi Otake's work
The Raden production process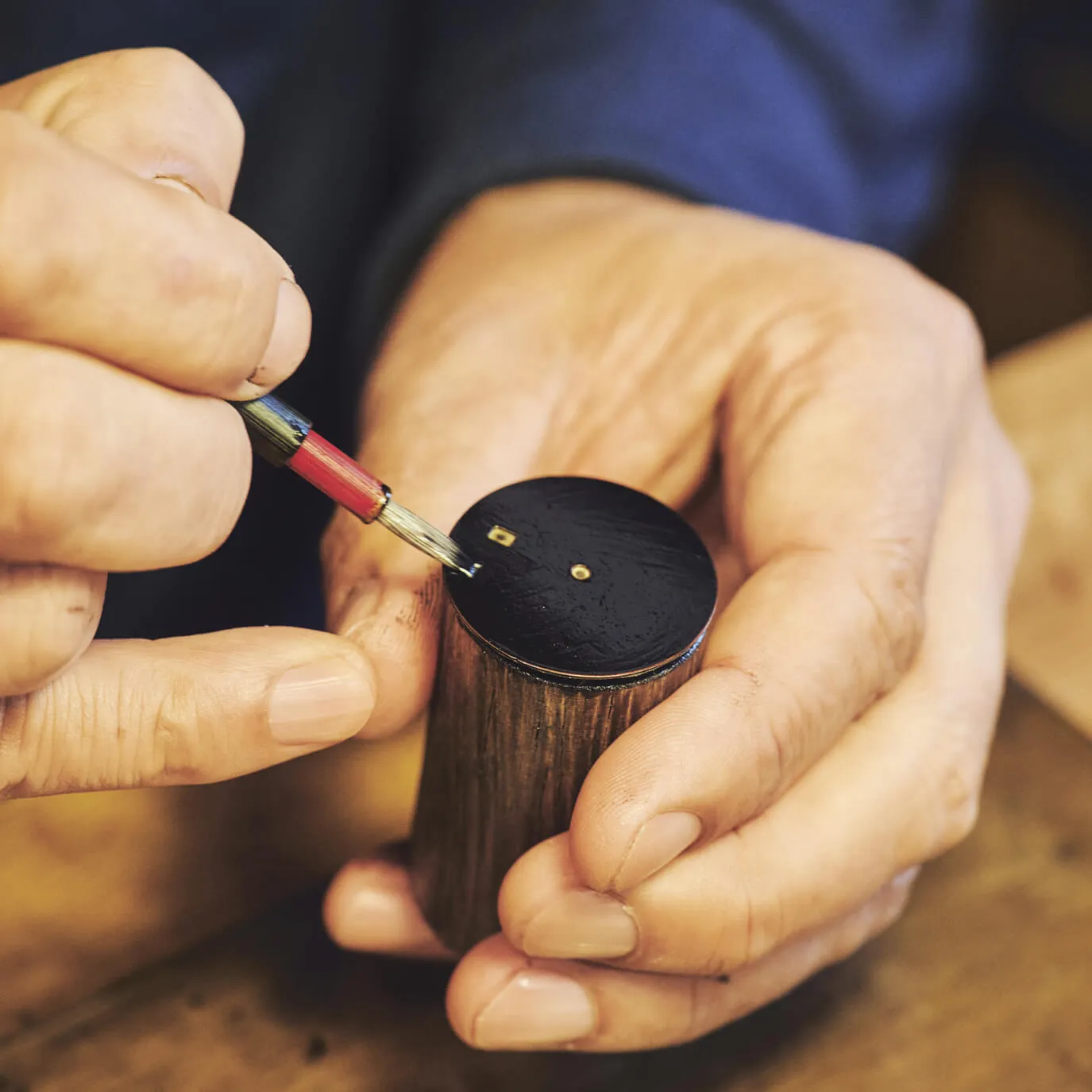 1.Base coating
After filtering to remove any impurities, lacquer is applied to the dial so that the shell pieces can adhere to it. This must be done evenly and with the right thickness, since this will determine the final result.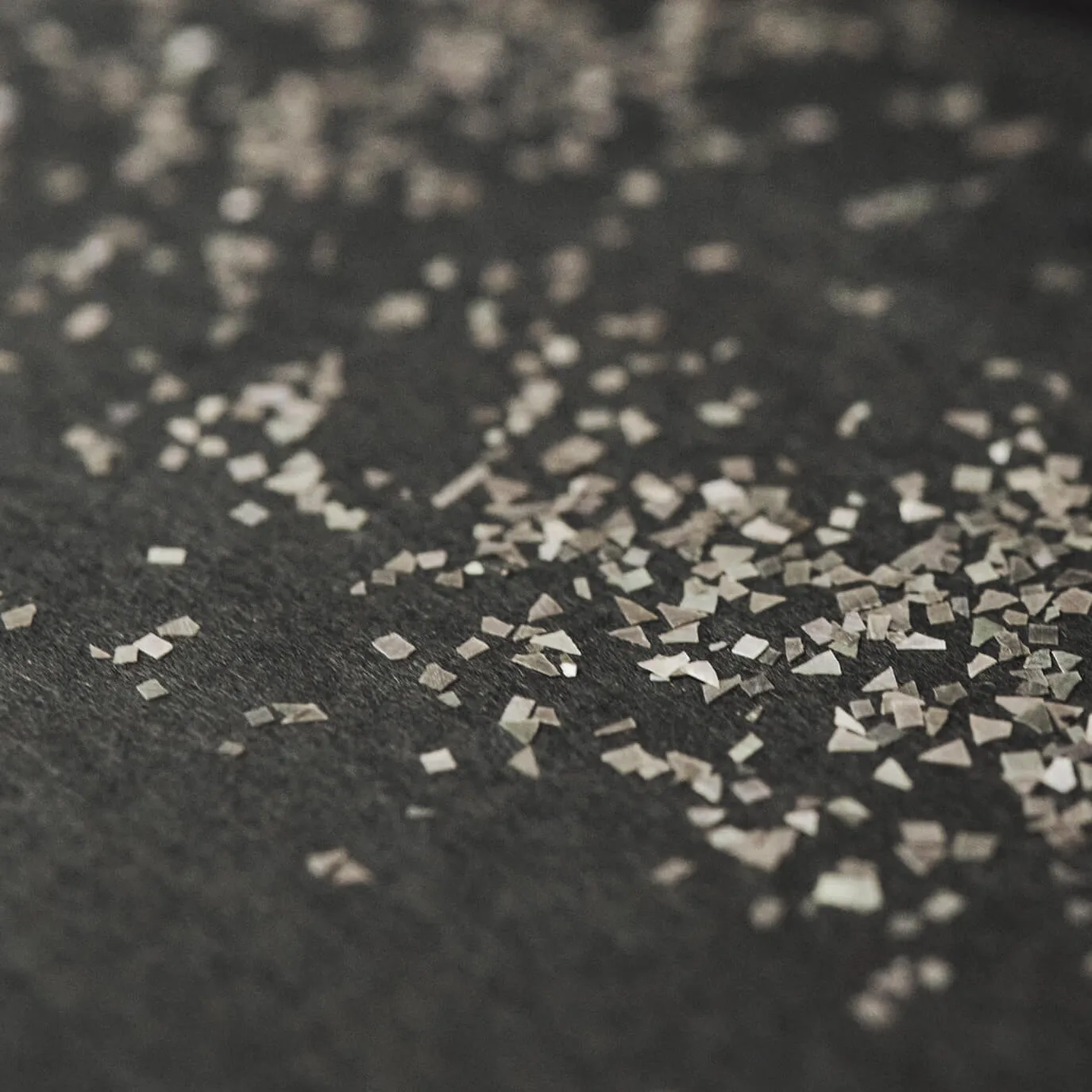 2.Shell crushing
The shells are crushed into small pieces before being distributed over the dial, all entirely by hand. The shiny inner layer of the finely processed shell is carefully crushed into small and medium-sized pieces.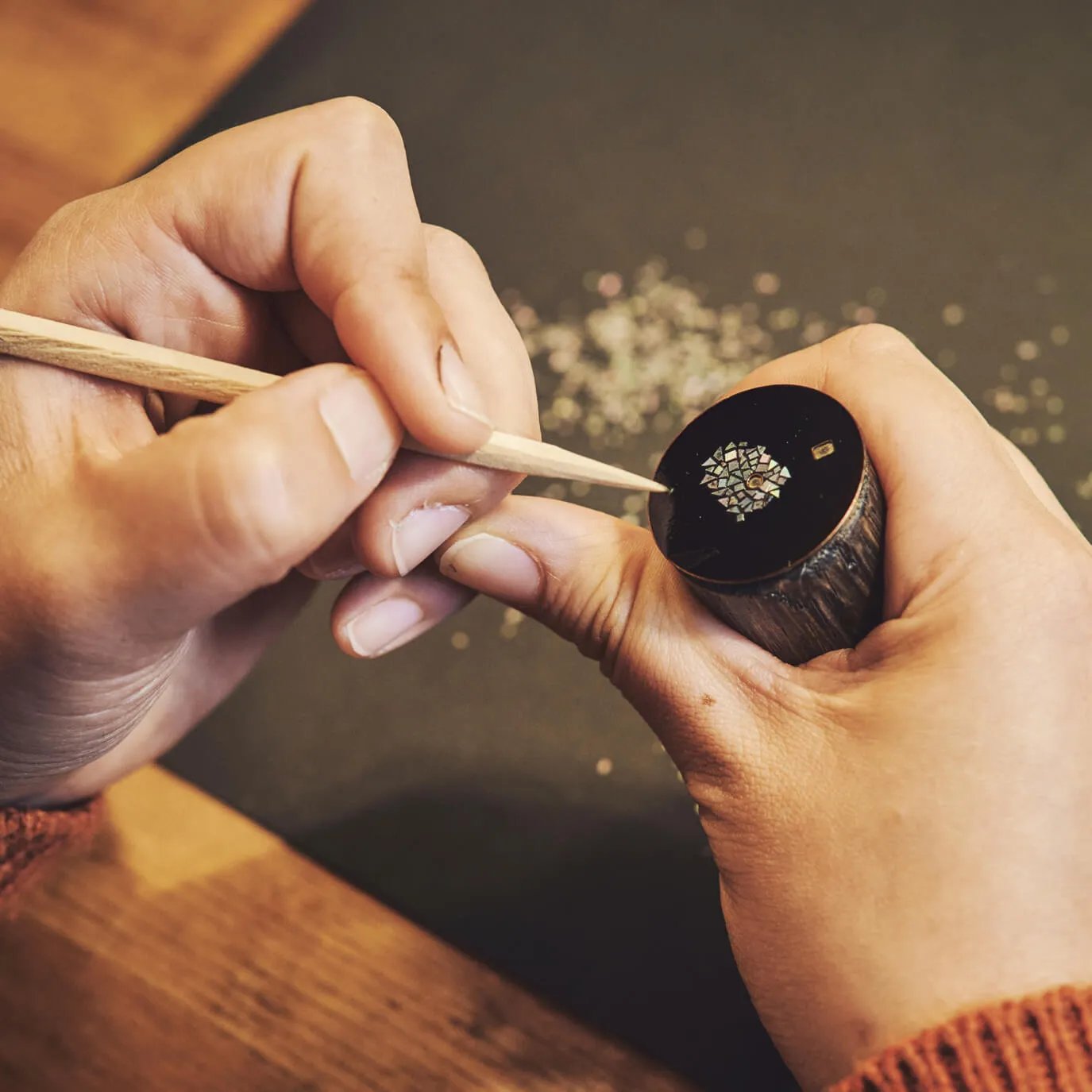 3.Distribution of shell pieces
Shell pieces of different colors and shapes are applied in a balanced manner according to the craftsman's intuition. The color and shape of the shell pieces are adjusted to create a gentle gradient from the center, before finally sprinkling with fine flakes using a powder tube.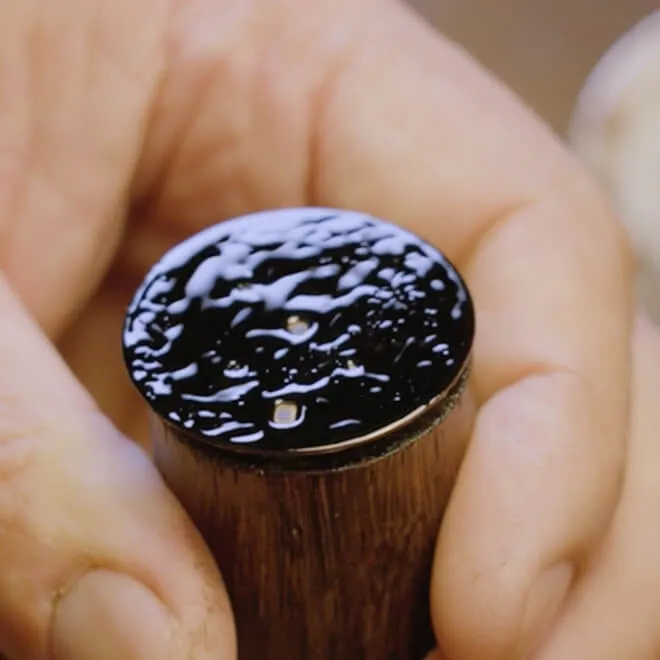 4.Coating application
The lacquer is applied again to cover the distributed shell pieces. This fills in the gaps between the shell pieces to create a Raden where the shell pieces and lacquer shine as a uniform surface.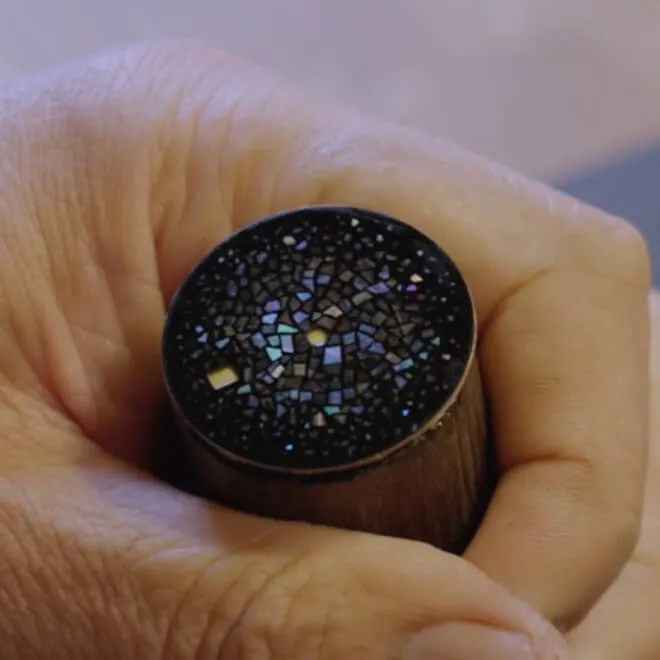 5.Polishing
After the layers of lacquer have thoroughly dried, the surface is polished so that the shell pieces can shine in their full glory. Through this process, the lacquer and shell pieces become smooth and shine as one. Too much polishing can cause the shell pieces to chip, so this is a highly delicate process carried out with a craftsman's touch.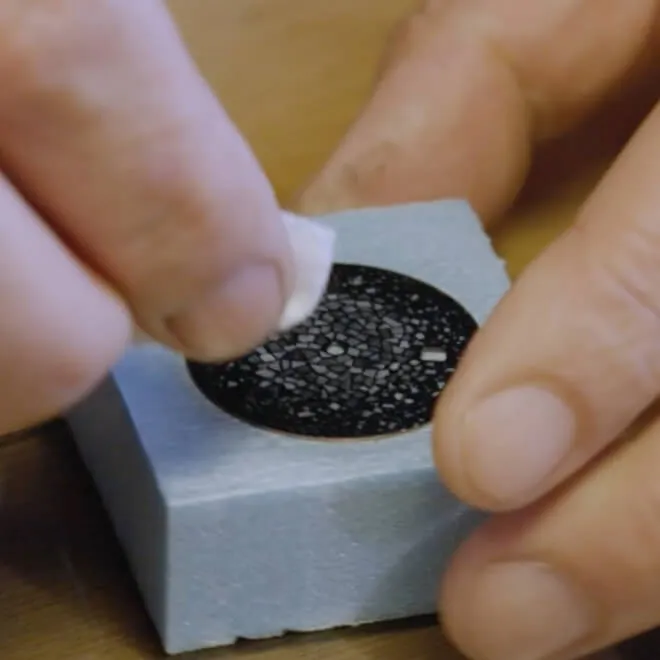 6.Color and lacquer adjustment
This process is only applied to the Sumi Monochrome dial. Normally, no color is applied on top of the shell pieces. However, to achieve Raden monochrome shades, the lacquer is gradually smoothed in a careful process to adjust its saturation, which is then polished to produce the subdued, radiant Sumi Monochrome effect.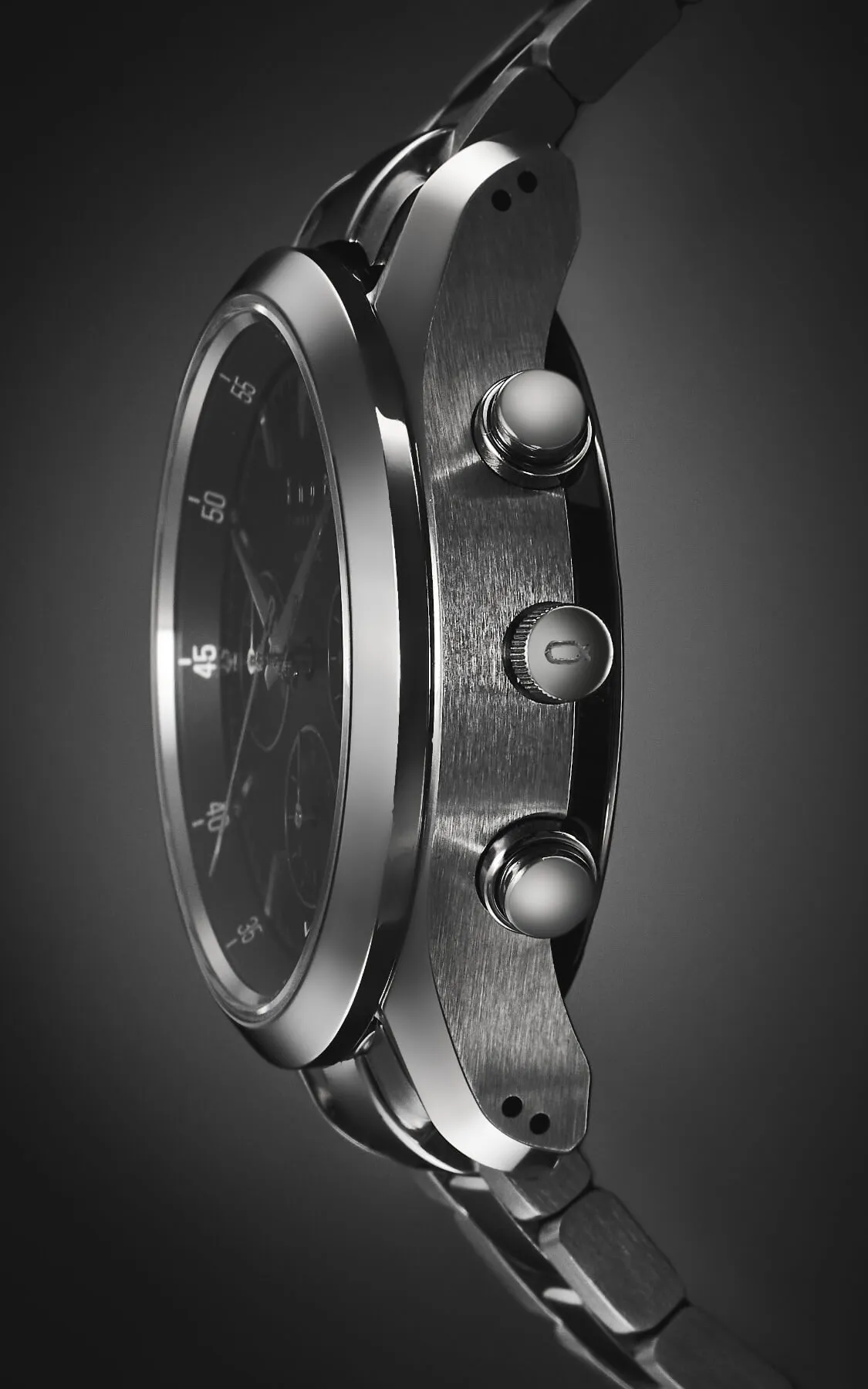 Case finished with the advanced Sallaz mirror polishing technique
from Hayashi Seiki Seizo, exclusive to the Premium Automatic Series
Sallaz mirror polishing is an advanced finishing technique which produces a beautiful flat surface with clean edges and zero distortion. There are very few craftsmen who are able to apply Sallaz mirror polishing, which makes it a rare and precious sight. The name "Sallaz" was originally derived from Swiss processing equipment, but it is now only found in high-end Japan-made watches. The ability to give different looks to the same material by carefully polishing each part is a highly sophisticated technique performed exclusively by the experienced technicians at Hayashi Seiki Seizo.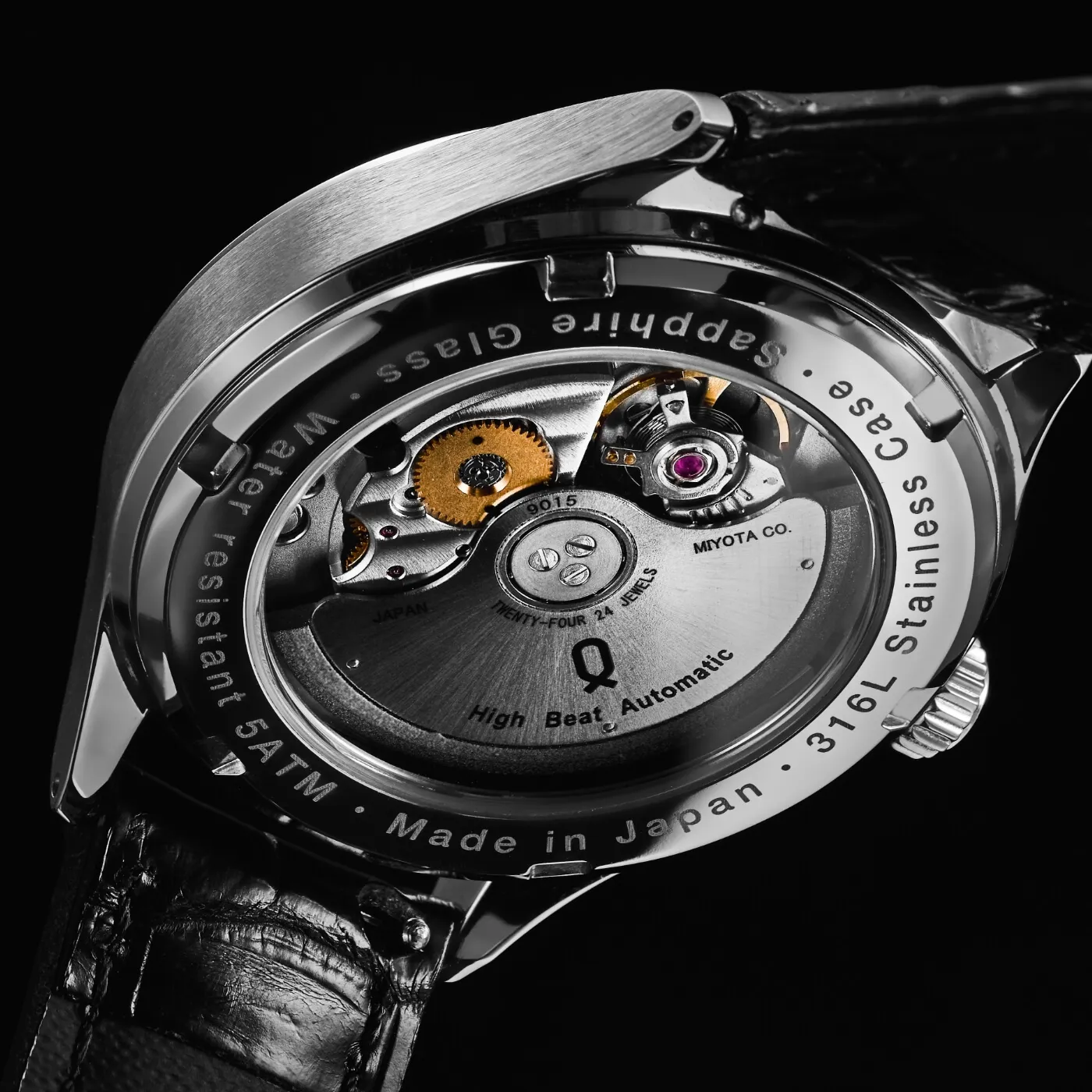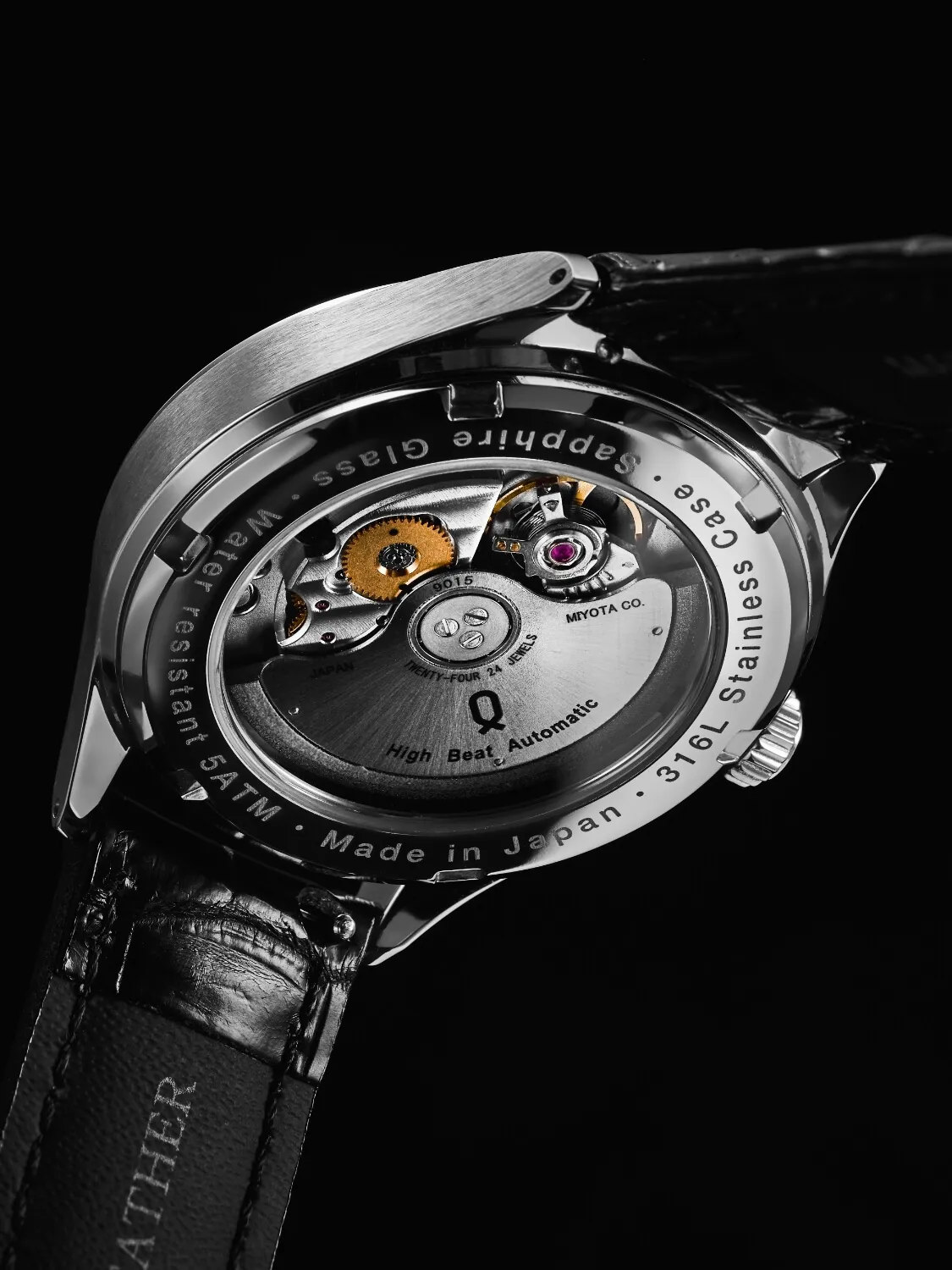 See-through back
The model based on the three-hand AT-38 has a see-through case back which allows you to observe the movement of the Japanese-made high-beat movement.

※Please note that the ATC-40 chronograph model does not have a see-through back.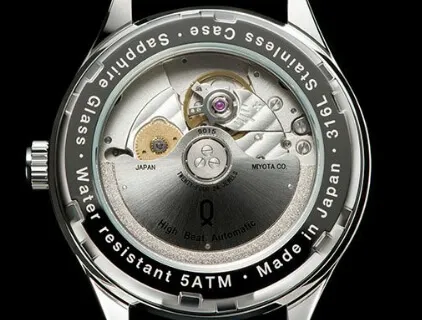 AT-38SVJRBK-R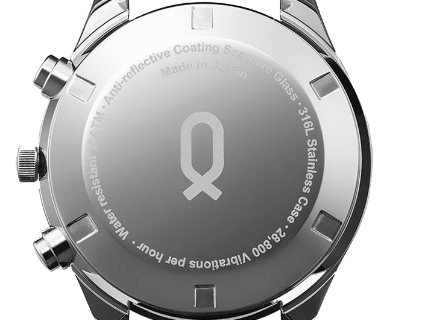 ATC-40SVJRBK-R
Exclusive Package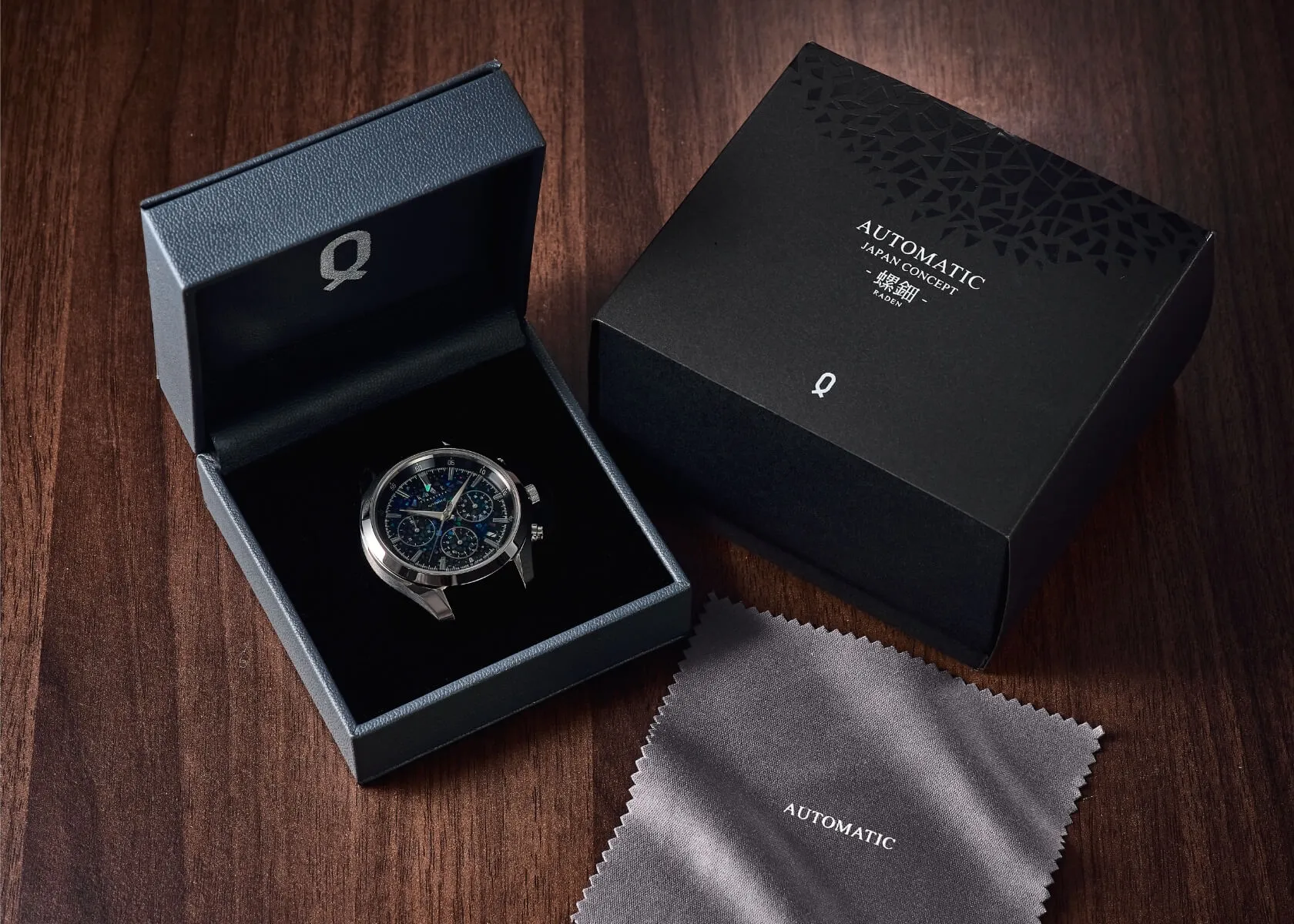 The watch is presented in a box exclusive to the Premium Automatic Series and in a special Raden inlay sleeve (the limited edition and regular edition both have the same package). The top of the box is decorated with an original plate befitting of the Premium Automatic series, engraved with the Knot logo, and an original watch cloth is also included.
Styling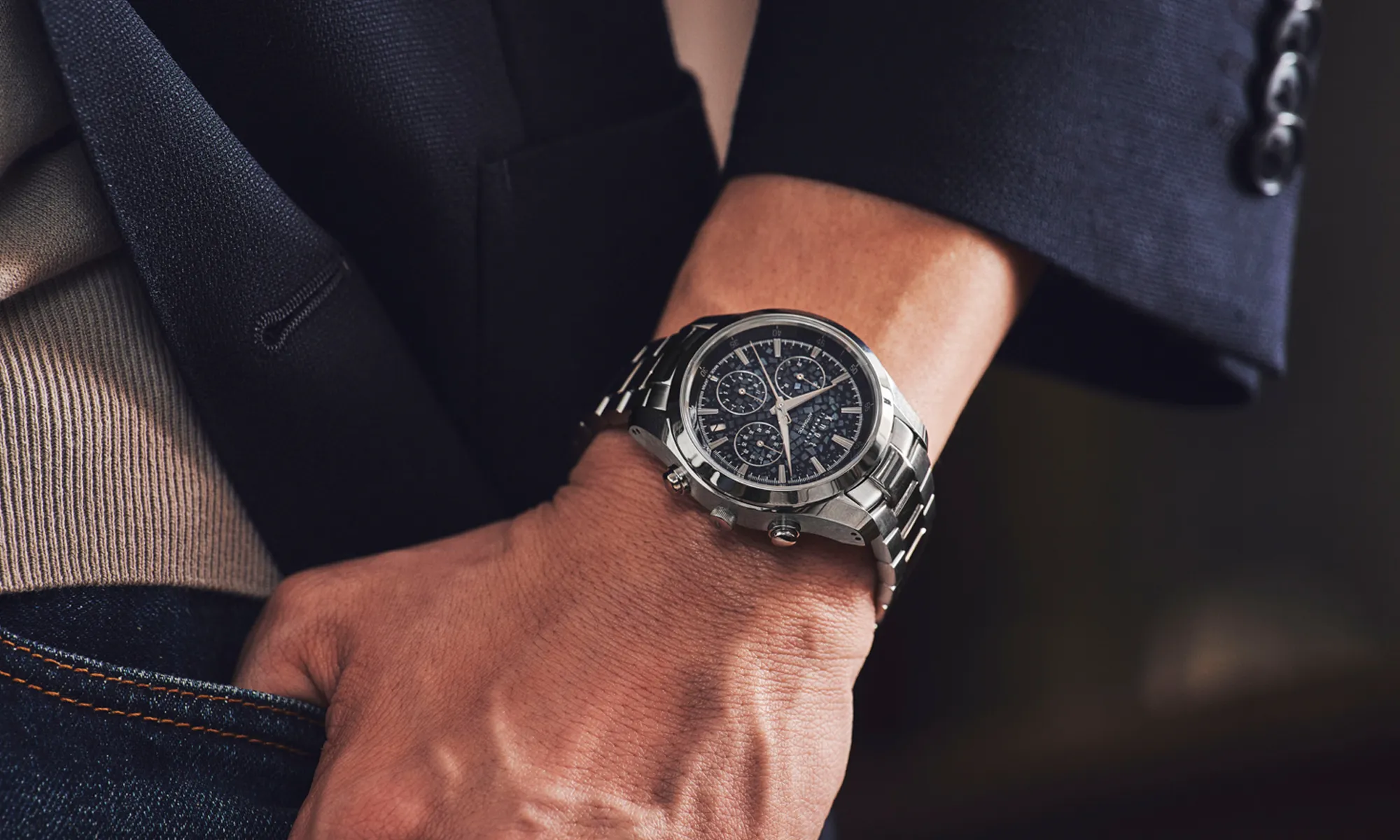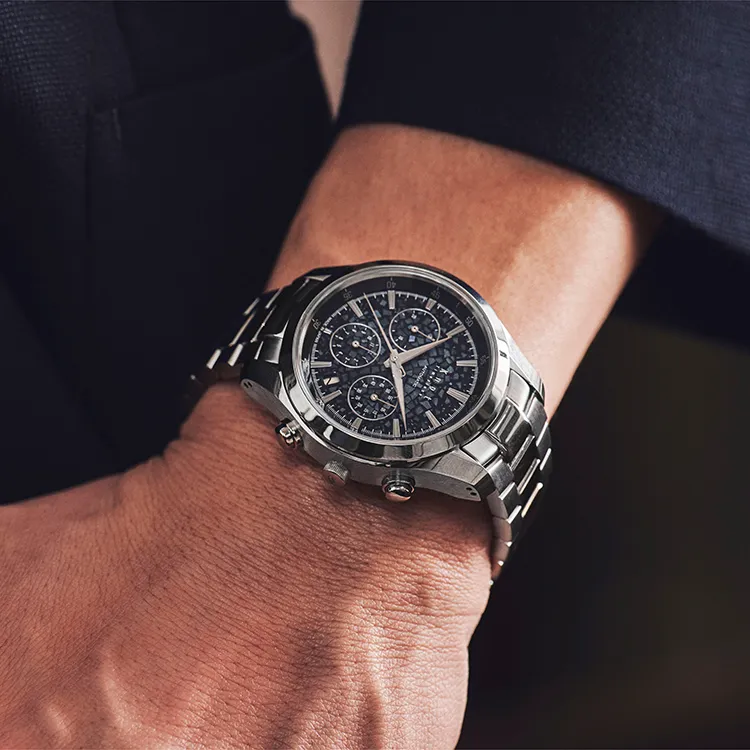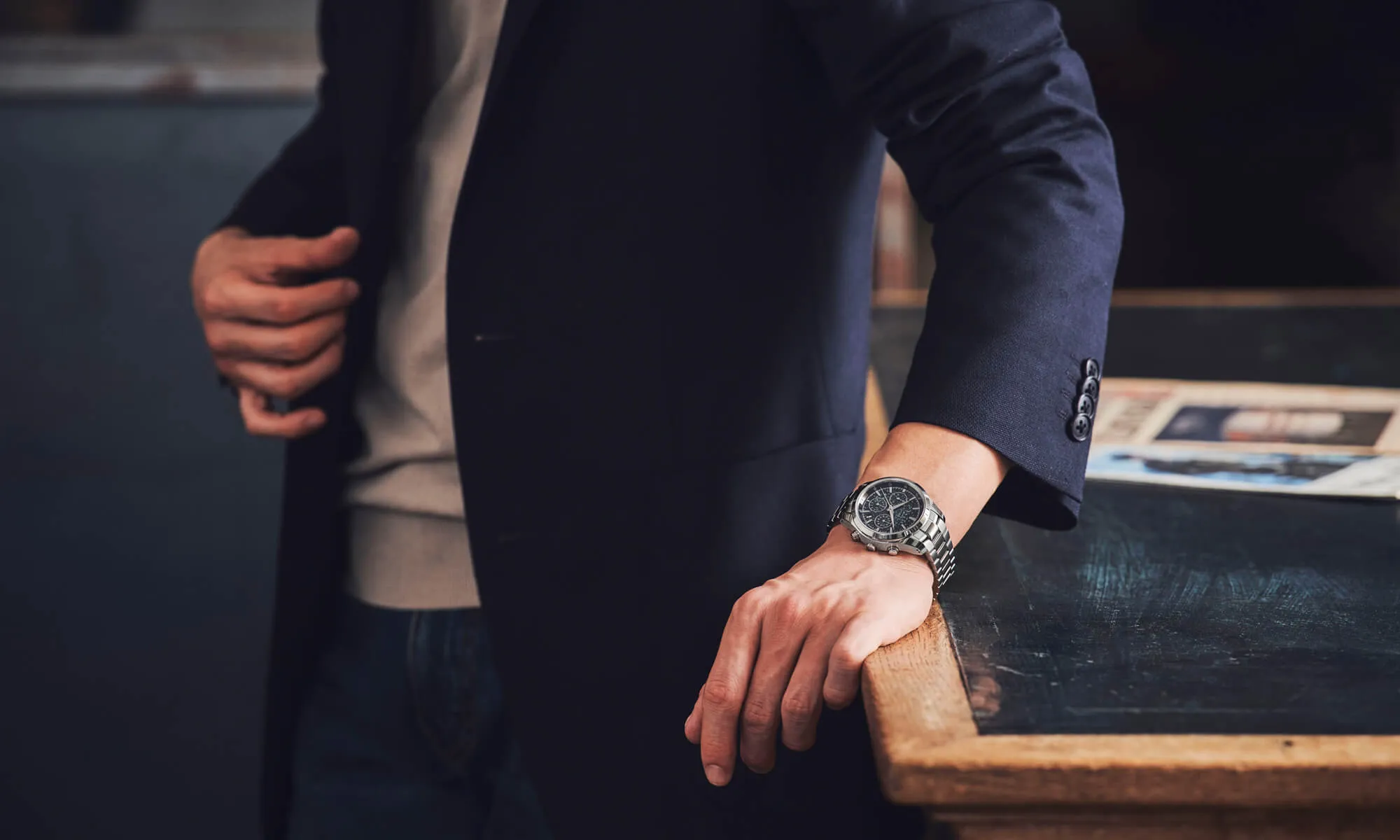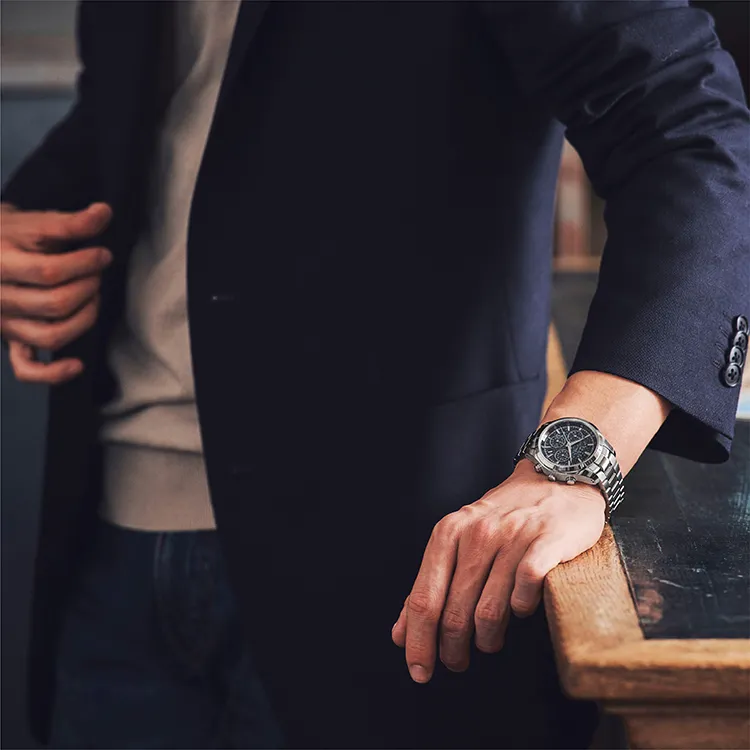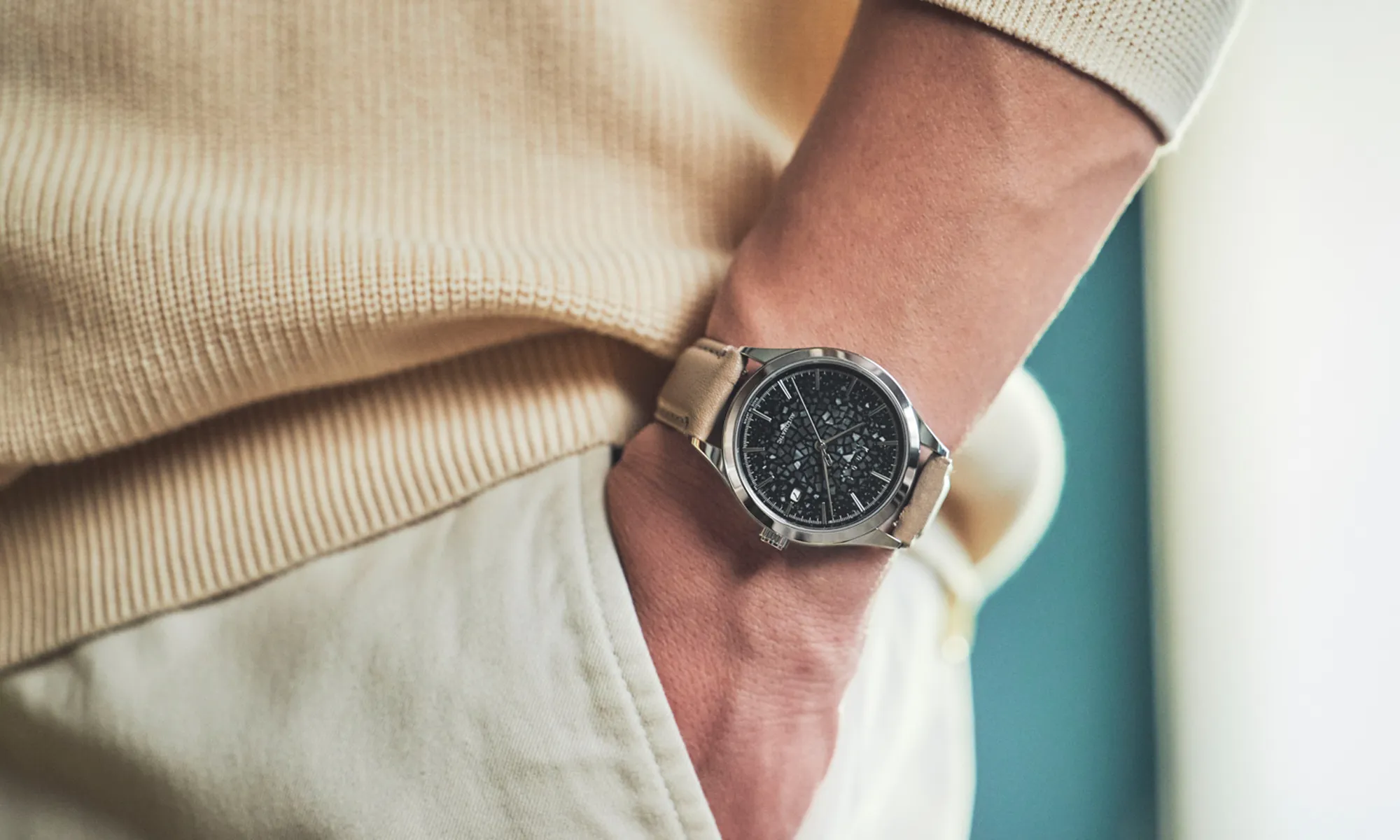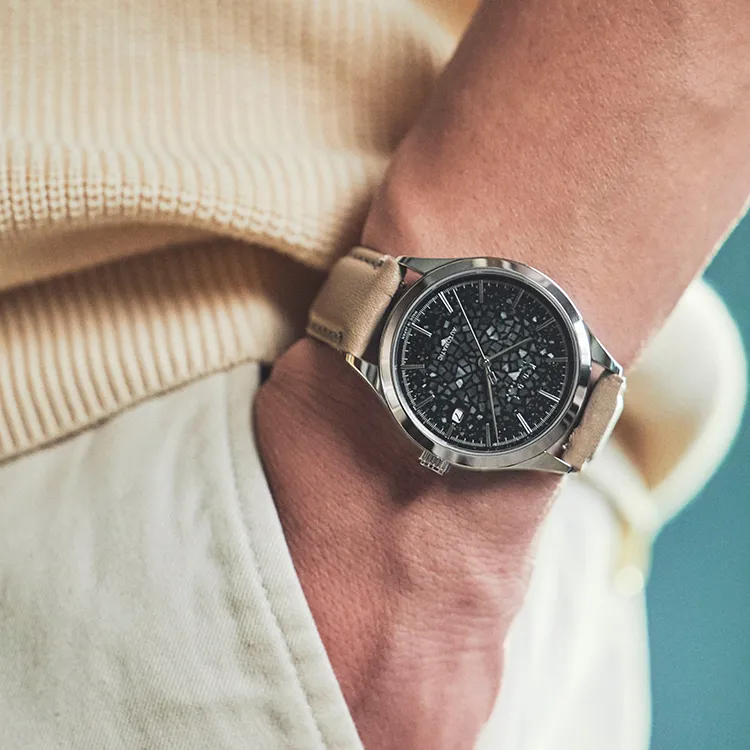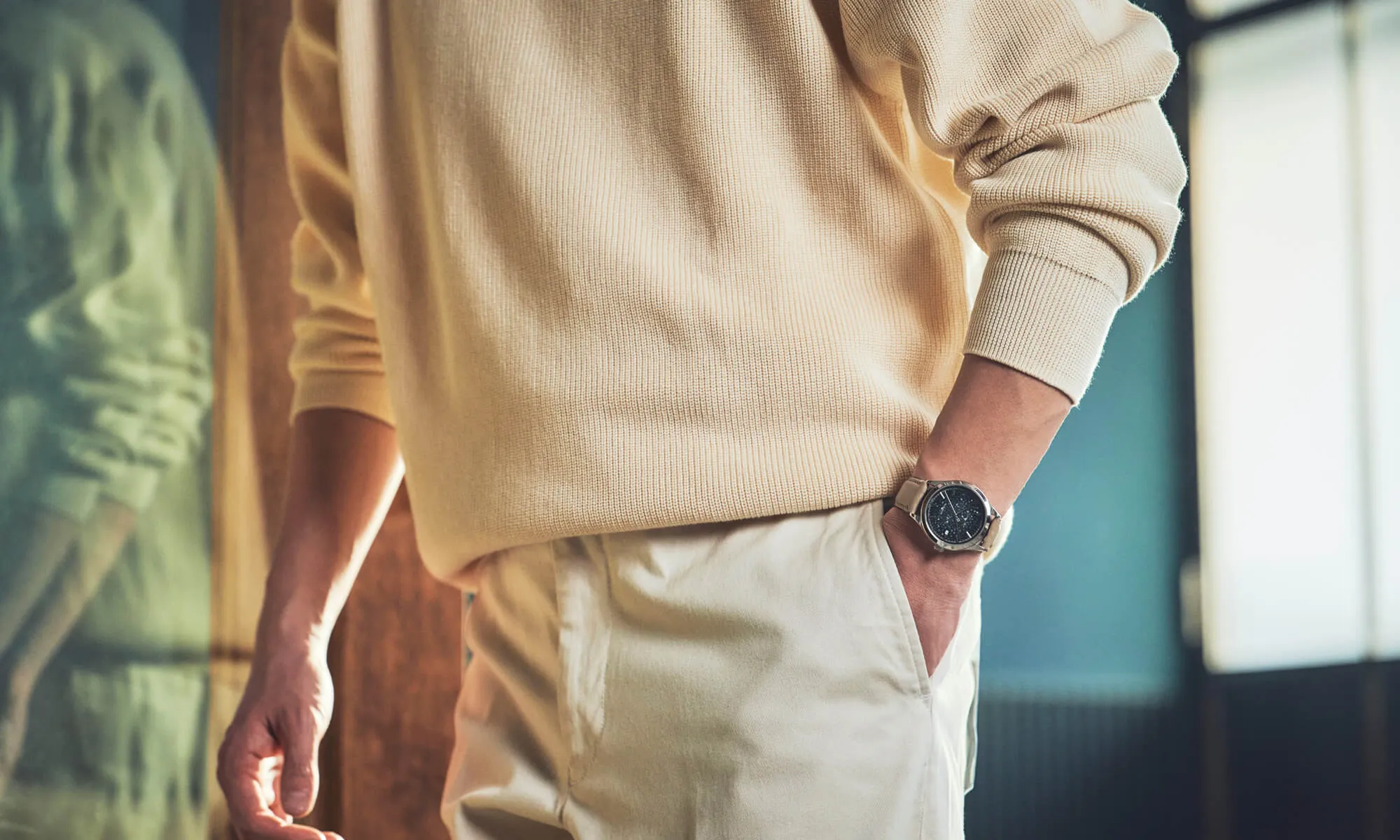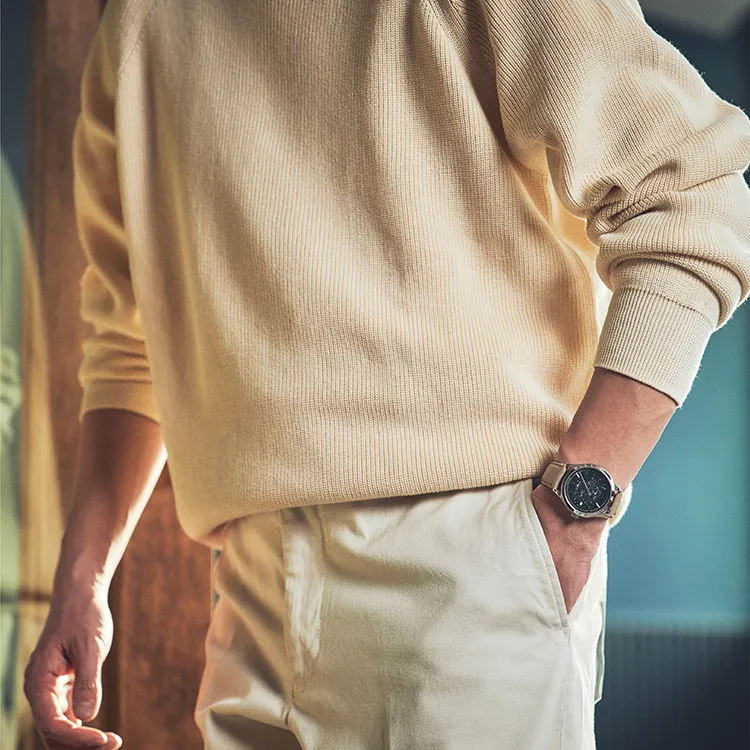 STANDARD MODEL
Standard automatic model line up suitable in various situation.
PREMIUM STRAP
A selection of high-quality straps suitable for premium automatic models
Specification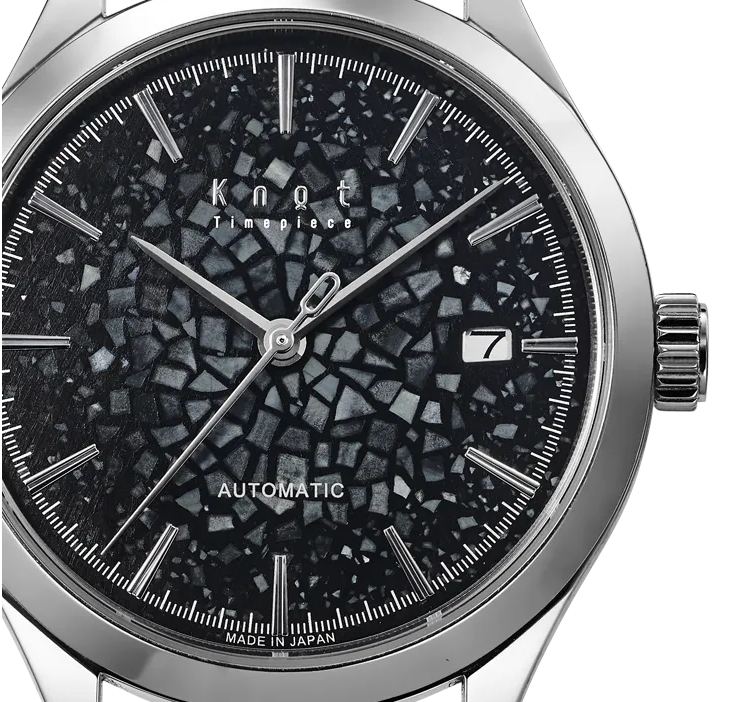 AT-38SVJRBK-R
AT-38SVJRBK-R
【Case】316L stainless steel
【Crystal】Sapphire glass (single-sided anti-reflective coating)
【Water resistance】5 ATM (water resistant to 5 bar)
【Movement】MIYOTA Cal. 9015 (8 vibrations per second, 42-hour running time)
【Number of jewels】24
【Accuracy】Average -10 seconds to +30 seconds per day (at room temperature between 5°C and 35°C)
【Display features】3 hands (hours, minutes, seconds), date
【Warranty period】3 years (for movement)
【Size and weight】Diameter 38mm, thickness 10mm, weight 50g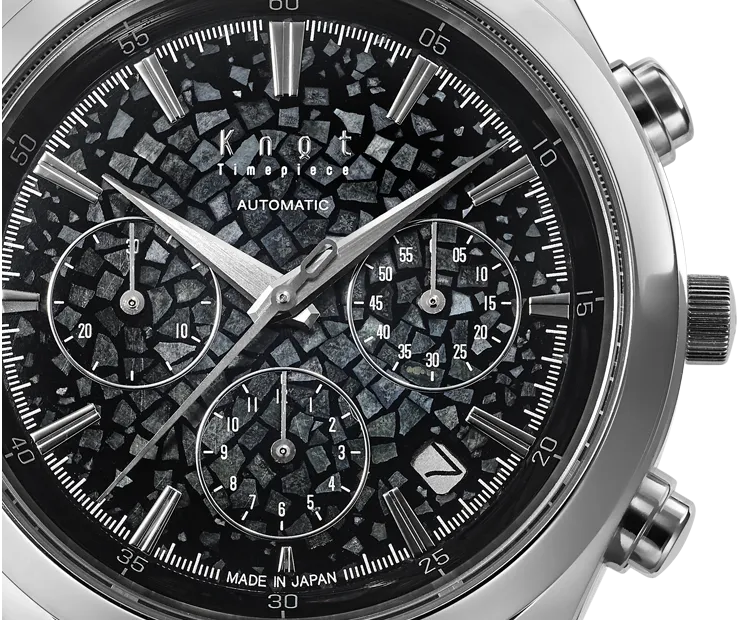 ATC-40SVJRBK-R
ATC-40SVJRBK-R
【Case】316L stainless steel
【Crystal】Sapphire glass (single-sided anti-reflective coating)
【Water resistance】10 ATM (water resistant to 10 bar)
【Movement】NE88 (8 vibrations per second, 42-hour running time)
【Number of jewels】34
【Accuracy】Average -10 seconds to +30 seconds per day (at room temperature between 5°C and 35°C)
【Display features】6 hands (hours, minutes, small-second, stopwatch hand (seconds), 30-minute hand, 12-hour hand), date
【Warranty period】3 years (for movement)
【Size and weight】Diameter 40mm, thickness 13.5mm, weight 68g